Introducing affiliatets.com - a cutting-edge platform revolutionizing affiliate marketing.
Maximize your company's ROI and save on marketing costs with our advanced marketing platform – a comprehensive Marketing Tracking System. Effectively manage, optimize, and monetize your media ads, partners, and media sources, while gaining valuable insights for improved results.
Interested in learning more about our innovative marketing platform? Get in touch with us today to discover how our solution can benefit your business.
Would you be interested in investing in affiliatets.com? We are currently seeking investors to facilitate the global marketing of our system.
We provide valuable data to empower informed decision-making for your business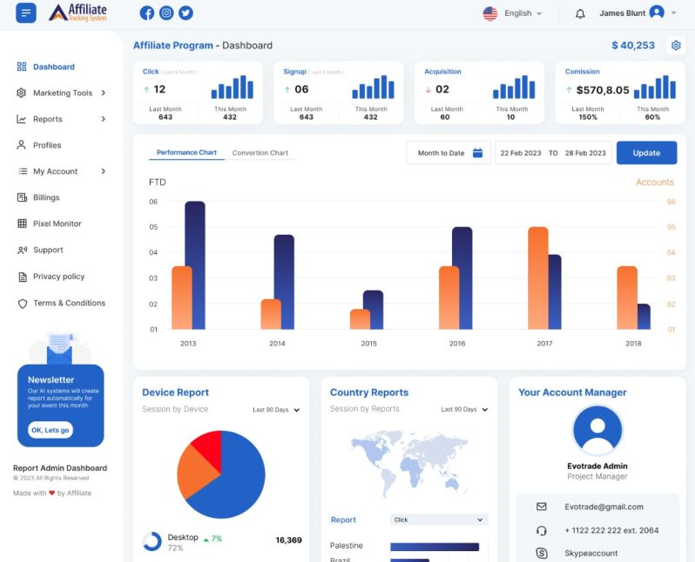 Introduction to affiliatets.com: Affiliatets.com is a leading affiliate software program and tracking solution provider, catering to both B2C and B2B markets. Our comprehensive platform offers advanced features and tools to optimize affiliate marketing campaigns, driving revenue growth and maximizing returns for businesses.
Attractions:
SaaS Business Model: affiliatets.com operates on a Software-as-a-Service (SaaS) model, ensuring recurring revenue streams. On average, companies using our platform generate $2000 per month in income, offering a strong foundation for profitability and growth.
Global Reach: We have successfully expanded our market presence with a live product translated into 8 languages. This enables us to cater to a diverse range of clients worldwide and capitalize on international growth opportunities.
Established Client Base: affiliatets.com boasts a strong portfolio of satisfied clients who have experienced remarkable sales growth by leveraging our affiliate program software. These live clients serve as a testament to the effectiveness and reliability of our platform.


Market Size of Affiliate Software and Tracking Solution for Mobile: The affiliate software and tracking solution market for mobile is witnessing exponential growth. As the digital landscape continues to evolve, mobile marketing and e-commerce are becoming increasingly prominent. affiliatets.com is strategically positioned to tap into this thriving market, with our platform specifically tailored to cater to the mobile affiliate marketing space. By investing in affiliatets.com, you can seize the opportunity to capitalize on this expanding market segment.


Why invest in affiliatets.com:


Strong Revenue Potential: With a proven business model and an average income of $2000 per month per company, affiliatets.com presents a lucrative revenue-generating opportunity for investors.
Global Expansion: Our ability to provide a localized experience in 8 languages gives us a competitive edge in expanding our market reach and capturing international markets.
Market Demand: The increasing reliance on affiliate marketing and the growing mobile e-commerce sector creates a strong demand for reliable affiliate software and tracking solutions. affiliatets.com is well-positioned to meet this demand and capture a significant market share.
Track Record of Success: The success stories of our live clients, who have witnessed substantial sales growth using our platform, demonstrate the effectiveness and value of affiliatets.com as a trusted affiliate software provider.
Innovation and Scalability: affiliatets.com is committed to continuous innovation, ensuring that our platform remains at the forefront of the industry. Our scalable infrastructure allows for seamless expansion and adaptability to evolving market dynamics.


Investing in affiliatets.com presents a compelling opportunity to partner with a market leader in the affiliate software and tracking solution industry. With a solid business model, established clientele, and promising market potential, affiliatets.com is poised for remarkable growth and profitability.
Fast, Easy and Simple integration
When customers complete the system implementation phase in their organization soon they will receive real-time reports on their entire marketing array.